About Vannoy Chevrolet New and Used Car Dealership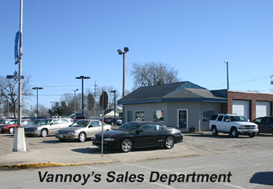 Vannoy Chevrolet Co. Inc. is located in central Iowa, just 10 miles south of I-80 on US Hwy 63. The dealership continues to operate from the original site in downtown Montezuma, just east of the historical Poweshiek County Courthouse. [Map and directions to Vannoy]
Vannoy Chevrolet Co. Inc., the only Chevrolet dealership in Montezuma, was established in 1956 by Waldo E. Vannoy. Mr. Vannoy and the current owner, Douglas L. Ver Meer, began their partnership in 1981. In 1994, Mr. Ver Meer became sole owner, bringing along his third generation expertise in the vehicle industry. The dealership name and logo remain the same honoring Mr. Vannoy's longtime dedication to the vehicle industry.
Vannoy Chevrolet Co. Inc. is located in a small rural community and we take pride in our loyal customer base - the majority are repeat customers. We also participate in many events including being the local sponsor during the holidays for General Motors' Toy for Tots. Vannoy Chevrolet Co. Inc. currently employs 16 full time employees and feel our employee dedication is also part of our success. We offer a complete line of genuine GM parts and knowledgeable staff to assist you. We employ ASE certified mechanics whom are factory trained according to General Motors standards.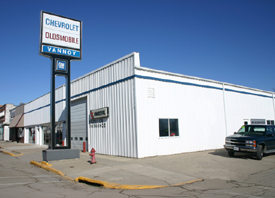 Our sales staff is always willing to assist you in purchasing that new vehicle you've always wished for or the quality pre-owned vehicle you spot on our lot.
We pride ourselves on customer satisfaction whether in the Sales or the Service Departments and invite you to continue to visit our Website. Enjoy your stop at Vannoy Chevrolet Co. Inc.
Local: 641-623-2177
Toll Free: 800-247-0092
119 4th Street | Montezuma, Iowa 50171